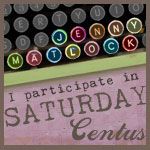 Another week gone by and it's time for another Saturday Centus! This week again we have been thrown a big twist to the regular challenge. Instead of the normal 100 word limit to our Centus we now have just 25 words to craft a story. 25 words. Though 25 seems like a HUGE number to a 5 year old, we all know it isn't much. In fact my first two sentences already totaled 25 words. So really this could be considered the Two Sentence Centus. Sounds pretty catchy.
In addition to our 25 words we are provided a 3 word prompt to use, unaltered, and base our story around. The prompt this week:
The lottery ticket
I haven't got a chance to read any of the others yet but I'm really curious to see if anyone took the whole "stone to death" approach from The Lottery.
Below is my two sentence Centus for the week. The prompt is in bold. It's titled: Wishing
--------------------------------------------------------------------
Wishing
At the store, she bought hope for a dollar. Maybe a perfect life was possible. As she wished,
the lottery ticke
t matched, but happiness didn't follow. Wrong wish.
-------------------------------------------------------
~Lissa