***I apologize for the multitude of typos or lack of comprehensible sentences that may follow below, as I am very tired***
I've had a rather sleepless week this week, staying up often til 5 or even, once pulling an all nighter and staying up for 36 hours and going to two classes. The reason? School has started up again, which means I have to go back to reporting to my Feature Film symposium class. The class is 9 months long and in the end of it we should have a second draft done on our own feature. This week I am supposed to turn in another 10 pages of my script therefore totaling 40, but over the break I decided to change so much of my story, I am now rewriting the first 30 pages as well. Writing 40 pages in less than one week. Oh plus reading all 5 hours of the original untranslated Hamlet. It's making for a tiring week.
Now it's 6 in the morning and I'm not up "early", just still up, working on my feature. In needing to take a break from writing, I oddly enough decided I would do... more writing. So I've put aside my feature for the moment and am participating once again in the Saturday Centus.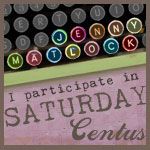 The Saturday Centus is a meme hosted by
Jenny Matlock
in which every week we will be given a prompt, usually a sentence or two, that you must form a story around using only an additional 100 words. You must include the prompt but cannot break up or alter the prompt in any way, and you may not use pictures, or foul language.
This week she is throwing us a twist, and breaking away from the mold. Instead of a sentence prompt we were provided a picture.
My centus based on the picture above, follows below. I've titled it, A Fruity Trailer.
A Fruity Trailer
---------------------------------------------------------------------------------------------------
Coming soon to theaters...
The greatest love story ever told.
Orrie Ange was just a lonely girl rooted in Florida who never felt like she belonged...until one winter...
--"Hi."
--"Hey"
She met traveler, Jules Snow.
---"He just disappeared in the morning?"
----"I'm going after him."
Their love was instant.
---"She brings color and zest to my life!"
But with their families trying to keep them separated...
---"Orrie, he's flaky."
---"No, he's beautiful!"
--"He'll kill you if you stay with him!"
They'll have to fight to be together.
Can their love survive?
Julia Roberts. Johnny Depp
Orange Julius
February 12th 2011
-----------------------------------------------------------------------
You can tell I can't get movies off the brain, huh?
~Lissa